"As we express our gratitude, we must never forget that the highest appreciation is not to utter words, but to live by them."  John F. Kennedy
I am sorry it has been so long since I have written.  This has been a busy year so far with so much to be grateful for.  Our health, our work, each other. We have been tirelessly advocating for our clients with family law issues, establishing limited conservatorships, creating estate plans and special needs trusts, completing adoptions, and of course advocating for students facing challenges in school.  We have been blessed with many amazing outcomes.  We are grateful to be in a position to help our clients with these important family needs.
And, that is the theme of our firm this month. Gratitude.
In the spirit of President Kennedy's words above, we want to not just utter our gratitude, but to live our gratitude.  Since last September, we have been finding ways to give back monthly, with small actions that create extended ripple effects. "I alone cannot change the world, but I can cast a stone across the water to create many ripples." – Mother Teresa.  So began the "Wave of Change" campaign where the firm contributed $4,000 into our Laguna Beach small business and non-profit community from September to December.
This year in 2021, we have kept the momentum going with team building exercises that benefit our community and express our gratitude for our continued and numerous blessings.
January Clothing Drive
We collected multiple bags and boxes of gently used clothing for Friendship Shelter, a Laguna Beach non-profit that helps homeless adults find stability with sobriety, housing and employment.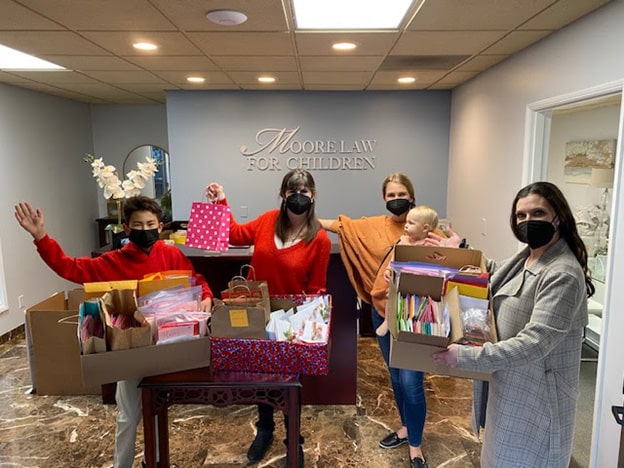 February Valentine's for Seniors
The pandemic severely impacted seniors in long-term care. As a result, long-term care facilities limited or eliminated visits from family members and friends in an effort to protect them.  Unfortunately, these seniors who were isolated before are now more isolated than ever. In coordination with the non-profit Council on Aging, Moore Law for Children coordinated a Valentine's Day Card Project for these lonely seniors and disabled adults.
We made and collected 1,076 handmade cards! Everyone from Laguna Beach Boys and Girl Scouts, students from LBUSD, teens, local Orange County families, law firms, and fellow senior citizens brought in bags full of incredibly unique cards covered in hearts, glitter, and clever Valentine puns.
March 5K Walk
National Women's History Month inspired our next Wave of Change. We supported Women Helping Women 5K walk and donations of professional clothing for men and women seeking to enter the workforce.
April Beach Clean-Up
Inspired by Earth Day, we picked up our trash grabbers and went to the beach where we collected trash. We could not have asked for a more beautiful day.  Time in the sun, by the waves, and being able to be together while helping the environment, was good for my soul.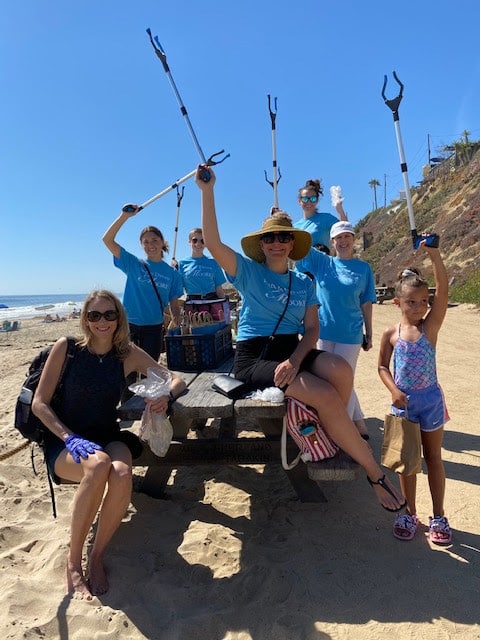 May Gratitude Project
This month, we are celebrating those special people who help our firm run efficiently, comply with the laws, and spread the word so we can help more people who value and desire our services.  We are so grateful for each of them and want to thank them.  We will be featuring each on Facebook.  Lucy Watson, our bookkeeper and accountant.  Katie Wagner Social Media who designed our beautiful new website and assists us with our marketing. Tailored Technology who keeps us from pulling our hair out by managing our computers, phones and all IT issues running smoothly.  And the maintenance crew at our office building who keeps things clean, in working order and who are always so cheerful and kind.
Additionally, as a team, we are completing personal gratitude exercises every day from the book "The Magic" by Rhonda Byrne.  If you would like to join us, please follow us on Facebook for each day's gratitude project.
In closing, we want to express our gratitude to you.  Our families, friends, clients, and referral partners.  You have placed your trust in us. You have shared your lives with us and for you, we are truly grateful.